Influence is everything—and the top CrossFit Games athletes have it.
These racehorses do unbelievable things when the clock starts, and fitness athletes are gaining more notoriety every year. Maybe Mat Fraser and Tia-Clair Toomey-Orr aren't yet close to the same level as Lebron James, Patrick Mahomes, Serena Williams and Naomi Osaka, but companies know partnering with top functional fitness stars is good for business.
Back in 2009 at The Ranch in Aromas, sponsorship was rare. A local business might have kicked in a few bucks for a plane ticket, or maybe a gym handed over a hat full of money from a fundraising workout.
In 2021, sponsorship is a big deal even if companies aren't yet forking out millions of dollars to the fittest of the fit. Still, every bit of corporate assistance helps the athletes, and the businesses get a greater return as fitness athletes become more prominent.
Fans simply want to know what the athletes at the top of the leaderboard are wearing, eating and drinking, and they want to know how their heroes are training and what equipment they're using. When they find out, they're only too happy to supply a credit card number.
Below, we'll take a look at some of the top fitness athletes in the world and the companies that are working with them as they train to be the fittest people on the planet.

Tia-Clair Toomey-Orr
Website
CrossFit Games Profile
Instagram
Facebook
It's good to be the champ: Four-time CrossFit Games winner Tia-Clair Toomey-Orr has a host of businesses backing her. First among them is PRVN, founded by her husband, Shane Orr. PRVN sells apparel, ebooks and programming streams for fitness, competition and affiliates.
For fuel, Toomey-Orr promotes supplements from 1st Phorm (though she isn't listed on the company's Athletes page), and she also chews ashwagandha and apple cider vinegar gummies from Goli.
Like many other top athletes—including old-schoolers such as Matt Chan and new young stars such as Haley Adams—Toomey-Orr carries the Rogue flag.
The fittest woman on Earth likely rests better at night knowing she has a referral page with beam, makers of recovery, performance and sleep supplements. PGA golfer Billy Horschel and NFL quarterback Baker Mayfield endorse beam dream capsules and dream powder, but the company is clearly targeting the CrossFit community: Katrin Davidsdottir and Mat Fraser are also featured on the home page.
If you're going to sponsor the CrossFit Games, you might as well get your name on one of its most marketable stars. NOBULL has done just that, and you'll see Toomey-Orr wearing the company's apparel regularly—sometimes while unwinding with ROMWOD drills and Hyperice products.
Interestingly, Toomey has managed to break into a world dominated by bodybuilders and fitness models. You'll find her wearing a lifting belt on the Schiek website, and she's surrounded by the likes of Mr. Olympia winners Jay Cutler and Phil Heath, as well figure competitor Latorya Watts, bikini competitor Angelica Teixeira and fitness model Jenna Renee Webb.
If Toomey picks up her fifth win in 2021, her list of backers is sure to grow longer.


Mat Fraser

CrossFit Games Profile
Instagram
Facebook
Recently retired five-time CrossFit Games champion Mat Fraser is still carrying a heavy load of sponsors. First and foremost, he's pumping his own tires through the HWPO Program delivered through Hybrid Performance Method—the platform founded by world-record holding powerlifter Stefi Cohen and weightlifter/powerlifter Hayden Bowe.
Launched April 1, HWPO is a functional training program that features the "PSM method"—percentages, scaling and modifying.
Perhaps the "Michael Jordan of CrossFit," Fraser is hooked up with Nike and even has several editions of signature Metcon shoes.
Like Toomey-Orr, Fraser pushes beam dream and can regularly be seen frothing beverages on the daily newsletter from the Morning Chalk Up. Fully rested thanks to beam, Fraser had the energy to connect with Compex, provider of muscle stimulators and other cool recovery devices.
The fittest man in history is a longtime Rogue athlete, and Fraser stays limber with GOWOD, which no doubt kept him flexible enough to answer all kinds of questions during a recent appearance on the The Joe Rogan Experience.
With more time to build a business now that he's not focused on crushing all opponents, Fraser recently teamed up with Buttery Bros Heber Cannon and Marston Sawyers to launch Podium Nutrition. More details on that project are forthcoming.


Katrin Tanja Davidsdottir

CrossFit Games Profile
Instagram
Facebook
The last woman to beat Tia-Clair Toomey-Orr at the CrossFit Games boasts an impressive array of sponsors. Icelander Katrin Davidsdottir is a two-time Games winner (2015 and 2016) and former Reebok athlete. Now, she's on the NOBULL plan for apparel and shoes but has maintained her long-term connection to Rogue.
Davidsdottir relies on Ascent for protein—Native Fuel Whey is her favorite—and stays bendy with GOWOD. The CrossFit New England athlete might be considered CompTrain's flagship athlete, and she's had a long (and very successful run) with super-coach Ben Bergeron holding the stopwatch and clipboard.
Katrin is a Whoop user, and wouldn't it be cool to see the strain and recovery data the wearable collects on this top athlete? Whoop is now the official CrossFit wearable, by the way.
Keeping her connection to her homeland strong, Davidsdottir is an ambassador for Dropi, a fish-oil provider that sources its cod in the North Atlantic. She washes that supplement down with the fine fare from Super Coffee, which supplies grounds, pods, creamers and ready-to-drink options including cold brew and espresso. On Facebook, the company listed Katrin as both a partner and investor, so you can be sure she'll be awake and caffeinated even if Dave Castro announces a surprise 3 a.m. event at the CrossFit Games.

Samuel Kwant

CrossFit Games Profile
Instagram
Facebook
Four-time CrossFit Games individual athlete Samuel Kwant is hooked up with ESC Sounds, Elite Fuel and CompTrain.
Old-schoolers will remember Chris Spealler running at The Ranch in Aromas with wired headphones, but anyone who's snagged a cable on a squat rack likely prefers the wireless ear buds that ESC Sounds and others provide. In addition to Kwant, the U.K. company keeps the likes of Sam Briggs, Adrian Mundwiler, Amanda Barnhart and Bethany Shadburne connected to their jams.
Kwant looks to Elite Fuel for his supplements and points to The Fuel as his product of choice.
"I love the extra edge I feel mid workout. It also makes my supplementation easy, as it is so comprehensive in covering everything I need nutritionally for my training and recovery," he said on the Elite Fuel website.
The Fuel is an energy and endurance product containing folate, vitamin b12, magnesium, sodium and more.
A CrossFit New England athlete, the 200-lb. Kwant is hooked up with Ben Bergeron and the CompTrain crew, which includes Katrin Davidsdotttir, Cole Sager and more.
Kwant was most recently seen battling Justin Medeiros during the live announcement of Open Workout 21.2, and he finished 224th worldwide in the Open.

Kari Pearce
Six-time Crossfit Games athlete Kari Pearce is all in on PearcePointers and PowerAbs—and the related products PowerGlutes, PowerArms and Pearce Perfect Pull-Ups. The 2020 third-place finisher at the Games has a degree in movement science, and Pearce's platforms are devoted almost exclusively to pushing her proprietary pump-up programs.
No former gymnast would let her hands become hamburger, so she's also linked to Victory Grips.
Like many other top athletes, she'll chug some beam before bed—probably to offset all the coffee from Caffeine and Kilos.
Pearce has the distinction of being sponsored by perhaps the most interesting product manufacturer: Halo Neuroscience. Halo makes a product that looks like a headset—and even plays music—but acts to prime your brain to train through a nub-filled interface you wet before wearing. Transcranial direct current stimulation might not be as common as rolling your glutes with a lacrosse ball, but the site is packed with research innovative athletes can review. The company website states the product has been discontinued, but as of press time Pearce still had Halo listed as a sponsor on her site.
Pearce is also connected to GOWOD and Renaissance Periodization (RP). The former will make sure Pearce stays as bendy as she was when she was vaulting at the University of Michigan, and the latter has her covered whether she's lifting forks or dumbbells.

Justin Medeiros

CrossFit Games Profile
Instagram
The youngest male on our list is just 22 but still managed to nab some sponsors thanks to a third-place finish at the 2020 CrossFit Games.
It's almost inconceivable that the dude who sports the sickest mullet in functional fitness hasn't got a hair-care sponsor yet, but we can only guess he'll acquire one soon.
For now, he'll have to stick with NOBULL for shoes and apparel and Rogue for gear. Medeiros and Haley Adams (see below) lead the youth movement at Rogue, and it's nice to see the Columbus crew throwing love at some of the newest faces on the scene.
GOWOD makes sure the fun-loving athlete from CrossFit Fort Vancouver is loose enough to party hard after he takes care of business in the gym.

Haley Adams

CrossFit Games Profile
Instagram
The youngest athlete on our list is already one of the most accomplished: She's won the Open twice, she's won the CrossFit Games once, and she's been on the CrossFit Games podium three times—all in the teen categories. In the main event, she took sixth in 2019 and fourth in 2020. That's a spectacular resume for any athlete, let alone a 20-year-old, and it's no surprise Rogue signed her.
"SO EXCITED to officially be a part of team Rogue Fitness," Adams wrote on Facebook in February 2021. "It's been a dream of mine since the beginning & I'm so proud to represent this amazing company."
That's far from her only sponsor. She's hooked up with Reebok and has her own collection on the Mayhem Nation site. She's also linked up with Rich Froning's affiliate, CrossFit Mayhem.
For fuel, she looks to BPN (Bare Performance Nutrition), and she'll swig NOCCO regularly. Made by No Carbs Company, NOCCO creates sugar-free products packed with branch chain amino acids (BCAAs) and vitamins. Renaissance Periodization (RP) makes sure she's on track with nutrition and training. Like Fraser, she sleeps soundly thanks to beam.
Given Adams's meteoric rise, this list will likely grow in 2021 aand 2022.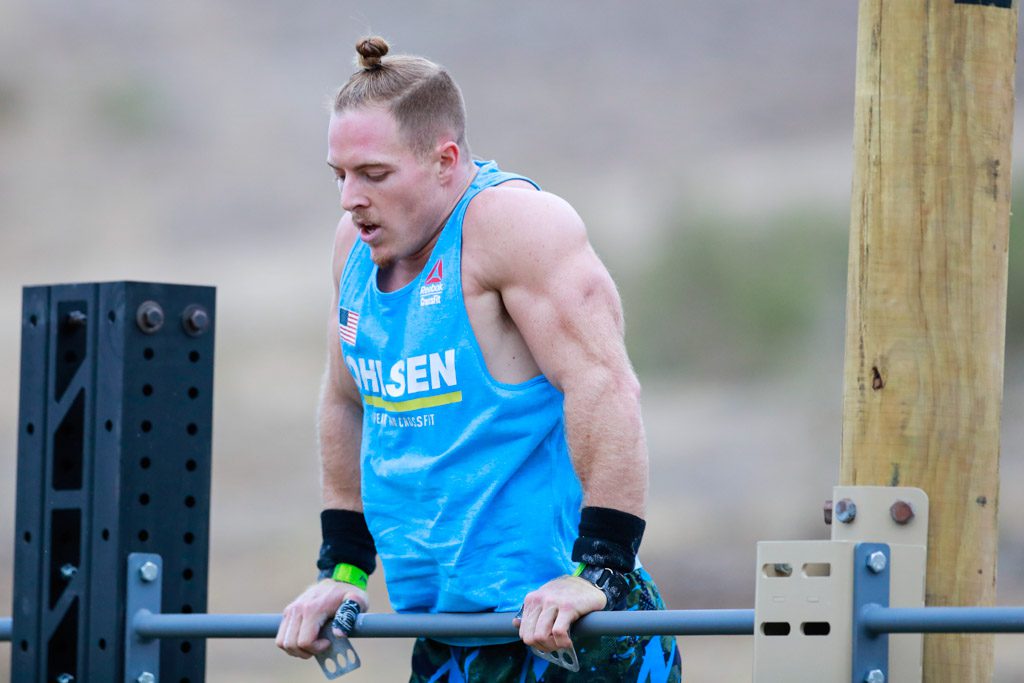 Noah Ohlsen

Website
CrossFit Games Profile
Instagram
Facebook
The "young guy" is now a CrossFit Games veteran with an impressive list of accomplishments. Noah Ohlsen, now 29, is a seven-time competitor who's earned a spot in the top 10 six times and the top 5 three times. He also won the Open in 2016.
Ohlsen is approaching 800,000 followers on Instagram and he's even got his own website. On Noahohlsen.com, you can sign up for Noah's programming stream, which is delivered through the Playbook app for $14.99 a month (after the initial month at just a buck). The site will also send you to Happy But Hungry for apparel and Evertrain for Ohlsen's signature supplement, Post Pro.
If you want to package the Evertrain supplement with a muscle stimulator, the Noal Ohlsen page on Marc Pro's site is the place to go.
Ohlsen pitches less products on social media than some of his peers, likely to make room for posts about Max—his dog and best bud (sorry, Travis Mayer). Max, BTW, is fueled by Nulo.

Brooke Wells

CrossFit Games Profile
Instagram
Facebook
Six-time CrossFit Games competitor Brooke Wells made the news in late 2020 by jumping from CompTrain to PRVN—which is, of course, also home to Tia-Clair Toomey-Orr. Like Toomey, Wells is connected to to 1st Phorm—though she isn't on the athletes page—and she can be seen wearing NOBULL.
You can use the code "Brooke15" for 15 percent off on the beam website, or, if you prefer muscle stim, enter "WELLS" for a similar discount with Compex.
Wells looks to Macrostax to keep her nutrition on track and GOWOD to make sure her overhead squat isn't affected by tight muscles. And she'll use Whoop to get data on recovery.
Wells' best Games finish is a fifth logged in 2020, but she's a podium athlete on this list when it comes to Instagram followers: She's got 1.4 million, which is just behind Toomey-Orr's 1.5 million and Davidsdottir's 1.8 million.

Jeffrey Adler

CrossFit Games Profile
Instagram
At 26, Jeffrey Adler has made a huge impression on the CrossFit community—and the pool of sponsors. A two-time Games veteran who finished fifth in 2020, Adler just won the 2021 worldwide Open.
Adler works with a pair of "body businesses." GOWOD is a mobility app that uses a philosophy that's familiar to anyone in Two-Brain: Test and prescribe a plan for improvement. NXT Generation Physio is also behind the 197-lb. Canadian. The chain has numerous locations in the Montreal area and specializes in corporate, family and sports physiotherapy. The company's head office isn't far from where Adler trains at CrossFit Wonderland.
For gear and apparel, Adler is backed by Timebirds, WIT and RPM Training Co. Timebirds provides portable workout timers, while RPM is best known for speed ropes as well as clothing. WIT is a multi-brand retailer with a strong online presence and ties to the functional fitness community: They're working with Sara Sigmundsdottir to design her signature line.
After his workout, you'll probably find Adler crushing FITAID, a post-workout recovery beverage made by the LIFEAID Beverage Co. Founders Orion Melehan and Aaron Hinde are old school: They met at a CrossFit box in Santa Cruz, California, in 2009.
If Adler improves on his 2020 Games performance, you'll be reading a lot more in this section in 2022.
All photos: Courtesy of CrossFit LLC.